Elegant Bedside Lighting for Traditional Style Homes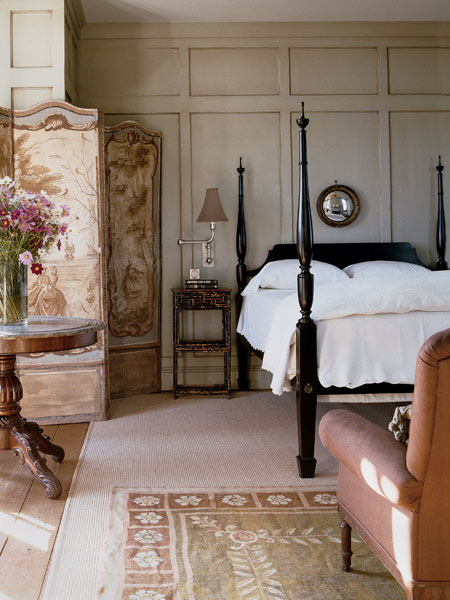 Muted tones don't always have to be used in modern, swanky lofts; similarly, elegant and traditional rooms don't always have to be covered in floral or damask patterns. The master bedroom featured today uses neutrals in a cozy, classic way as opposed to the all too common modern, minimal designs seen nowadays. Your bedroom should be a reflection of you – a personal sanctuary. It should be a place where you can rest your head in peace, or snuggle up with a good book. Luckily, this bedroom has a stylish swing-arm vintage wall sconce right next to the bed. The swingarm feature allows for you to pull the light closer for use while reading or writing, and push it away when you are ready to doze off. This style of lighting is commonly used in high end, luxury hotels, but now you can recreate the look and feel into your own home.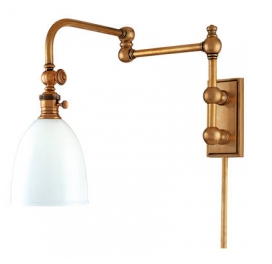 But where could you possibly find a wall sconce that is characterized by a swingarm, antique finish, as well as a concentrated spread of light? Well look no further, because Barn Light Electric Co.® has the perfect light to fit your needs! The College Point Swingarm Adjustable Sconce is sure to complete the look in your bedroom or seating room, all while proving to be functional in many ways. The College Point Swingarm Adjustable Sconce represents Victorian lighting with an opaque, frosted shade helping to focus light downwards without glare. Also, this particular sconce has a hi-low switch should you wish to have brighter or dimmer light. This swingarm sconce is also available in four distinctive finishes, allowing you to further customize it to fit your needs.
The versatility of this sconce is what makes it unique. Use it to provide lighting near a vanity mirror or as an additional light source in a kitchen work area.
Photo Courtesy of My Home Ideas