Breaking The Mold On Bathroom Lighting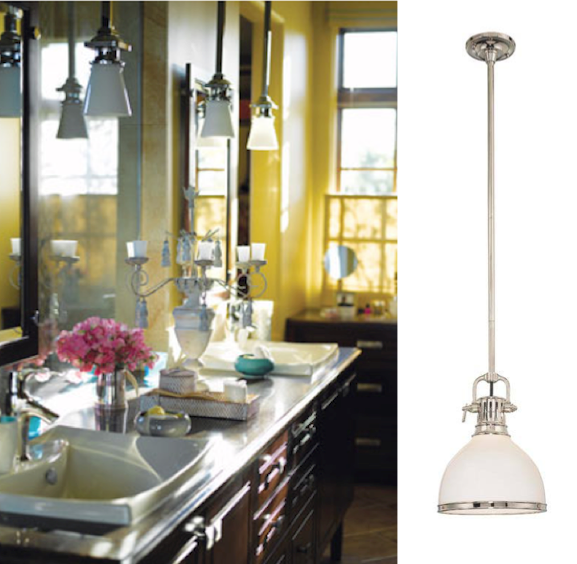 Photo (Left) Courtesy Of: Country Home
As Shown Above (Right) Barn Light Electric Byron Pendant, Polished Nickel
Traditional bathroom lighting has been limited to wall sconces, but not any more. The photo we found today on Country Home showcases a beautifully dressed up bathroom that utilizes sconce- like fixtures in a unique pendant form.
Similar to the Doolittle Pendant from Barn Light Electric, this pendant can be ordered in an Opal shade with Polished Nickel band, and will appear to be almost identical to those pictured above. Polished Nickel is a fabulous way to add a touch of sophistication to any room. Its shiny, silver like appearance reflects natural light around the room and coordinates well with the modern faucets below. It is a universal finish that coordinates well with most homes and will last through years of changing decor and color schemes.
Opal glass shades, like those shown above, allow for a soft glow of light to illuminate the room. Unlike clear glass, these frosted and ribbed shades won't cause eye strain when standing near sinks and mirrors. The added texture somewhat blocks the extreme light from escaping quickly, and delicately diffuses it. A soft light will be a welcoming gift to the non- morning dwellers, or those who wish to draw an evening bubble bath to unwind from a busy day.
This pendant light comes ready to hang and is easy to install. To adjust with numerous mirror or counter heights, this well designed pendant comes with adjustable stem lengths allowing you to achieve the perfect mounting height.
If it is still a traditional wall sconce you are after, there is good news – the coordinating sconce to the Byron can be found with us as well. The Kennewik Bath Light is available in a single up to a five light fixture and will be a beautiful edition next to mirrors, whirlpools, or showers.