Atomic Topless Dual Sconce
Atomic Topless Dual Sconce (atomic-topless-dual-sconce-spec-sheet.pdf, 231 Kb) [Download]
Product Details
Fixture Dimensions:
| | |
| --- | --- |
| Fixture: W 17 ¼" x H 10 ¾" | Projection: 9 ¾" |
Product Details:
Finish: Multiple (See Finish Options)
Wall Canopy Dimensions: 4 ¾" Diameter
Guard Option: Standard Cast Guard, Heavy Duty Cast Guard or Wire Guard
Max Wattage Per Socket: 100W Standard Incandescent (Bulb Not Included)
Number of Sockets: 2
Use: CSA Listed for Wet Locations (Only When Mounted Horizontally)
Manufactured in the U.S.A. This light fixture is made-to-order to suit your custom specifications. Learn more about the process here.
Please Note: No metal fixture, no matter the finish, is guaranteed against corrosion especially in salt air environments. If your fixtures will be installed in a location near salt water or with extreme weather conditions, we recommend routine and careful maintenance of your lighting including a mild soap-and-water wash and gentle buffing to help maintain the finish.
Finish Chart / Features
Powdercoat Finishes
| | | | | | |
| --- | --- | --- | --- | --- | --- |
| [100] Black | [105] Textured Black | [200] White | [300] Dark Green | [307] Emerald Green | [370] Mint |
| [375] Chartreuse | [390] Teal | [400] Barn Red | [420] Orange | [470] Watermelon | [480] Blush Pink |
| [490] Magenta | [500] Buttery Yellow | [570] Sunflower | [600] Bronze | [601] Chocolate | [605] Rust |
| [615] Oil-Rubbed Bronze | [700] Royal Blue | [705] Navy | [800] Industrial Grey | [805] Charcoal Granite | [975] Galvanized |
Durable finish colors to fit any style from traditional to retro to modern
Painted-to-Match Porcelain Finishes
110-Black
Shade Interior: White

210-White
Shade Interior: White

310-Green
Shade Interior: White

311-Jadite
Shade Interior: White

411-Cherry Red
Shade Interior: White

610-Bronze
Shade Interior: White

710-Cobalt Blue
Shade Interior: White

715-Delphite Blue
Shade Interior: White

810-Graphite
Shade Interior: White
Paint-To-Match-Porcelain finish chart for the same great look on a Powdercoat fixture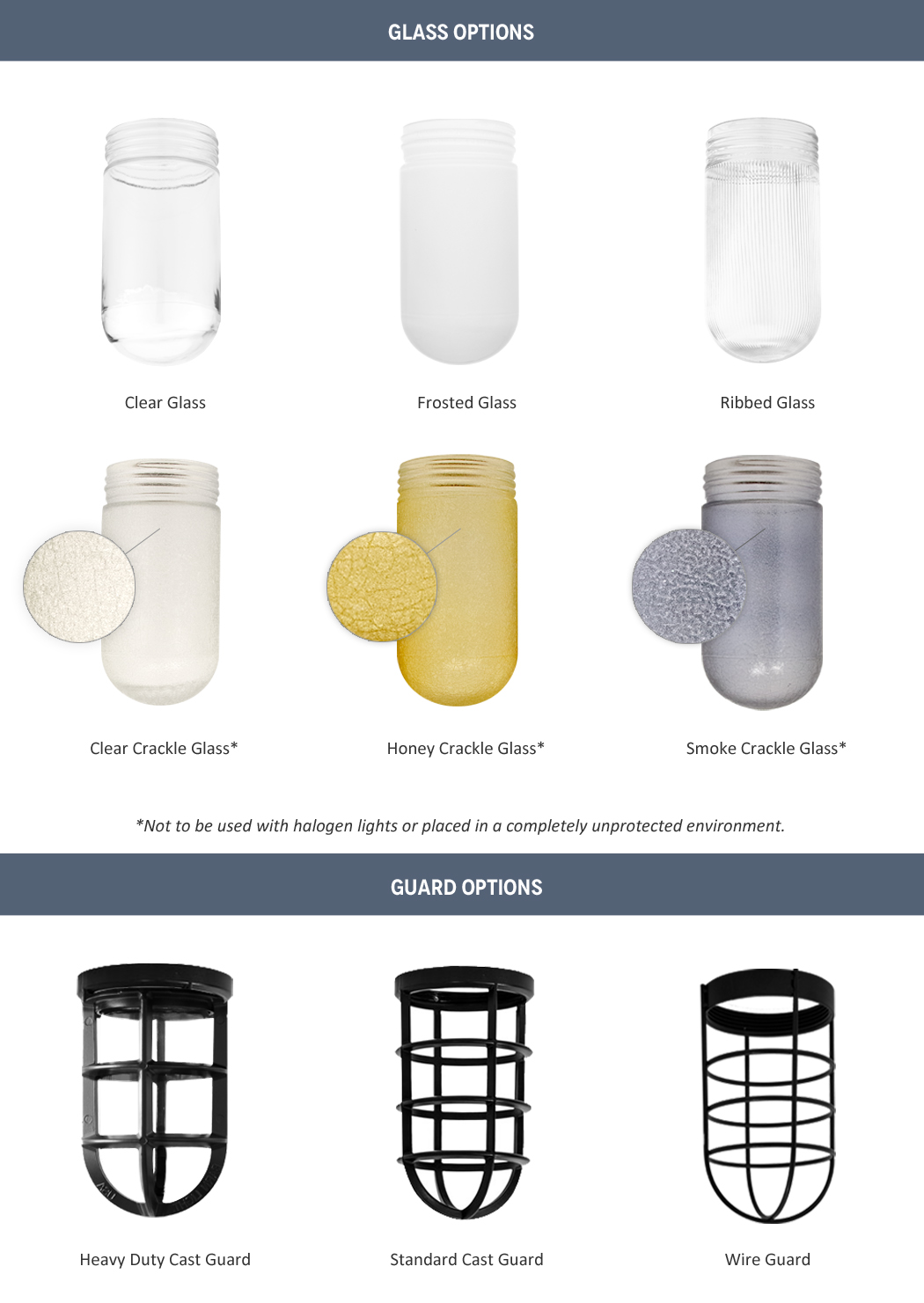 Protect your bulb and add vintage style and color